09-29-2013, 10:16 PM
Post: #21
ktm gal
Dreaming of Salman's Wedding
Salman Maniac

Posts: 14,608
Joined: Jan 2008
Reputation: 0
RE: Priyanka Chopra
First Look: Priyanka Chopra in Ram Leela
Sat, 2013-09-28
---

10-27-2013, 08:18 AM
Post: #22
ktm gal
Dreaming of Salman's Wedding
Salman Maniac

Posts: 14,608
Joined: Jan 2008
Reputation: 0
RE: Priyanka Chopra
---

11-03-2013, 10:47 AM
Post: #23
ktm gal
Dreaming of Salman's Wedding
Salman Maniac

Posts: 14,608
Joined: Jan 2008
Reputation: 0
RE: Priyanka Chopra
Is Priyanka Chopra missing Salman Khan?
Sat, November 2, 2013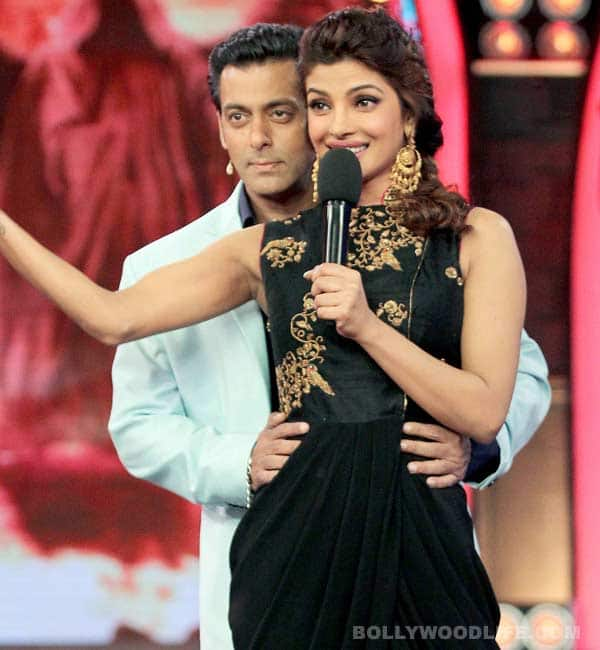 The Mujhse Shadi Karogi duo have not shared screen space after the last hit they delivered together…
Priyanka Chopra was definitely missing her co-star Salman Khan when she was being interviewed on the Arsenio Hall show recently. The Exotic babe, who was there to talk about being crowned the new face of Guess fashion, insisted on teaching her host some of Sallu's deadly moves. The gorgeous actor was doling out tips to the show host on how to be a Bollywood actor. She said, "Being a Bollywood actor is being able to do anything which is ridiculous, with a lot of swag."
A PeeCee fan from the audience – who had travelled across the country to be there – volunteered to teach Arsenio the Jeene ke hai chaar din dance…the famous towel dance that Salman did so well, remember? The actor herself said that she could not, since she was wearing a really short dress. While we like the idea of PC promoting Sallu on the American TV talk show, we wonder what her 'good friend' SRK would say if he knew about the Krrish 3 actor expressing her great love for Salman Khan!
http://www.bollywoodlife.com/news-gossip...lman-khan/
---

11-07-2013, 10:24 PM
Post: #25
ktm gal
Dreaming of Salman's Wedding
Salman Maniac

Posts: 14,608
Joined: Jan 2008
Reputation: 0
RE: Priyanka Chopra
---

12-16-2013, 01:43 PM
Post: #26
ktm gal
Dreaming of Salman's Wedding
Salman Maniac

Posts: 14,608
Joined: Jan 2008
Reputation: 0
RE: Priyanka Chopra
B'wood 'Rolls' in laughter
Poor Priyanka Chopra! Ever since she confessed to buying that Rs 2 crore Rolls-Royce, Bollywood just can't stop sniggering. They wonder why she is trying so hard to compete with the big boys of the industry, namely the Khans. Yes, Priyanka is very talented but people are wondering whether she actually makes that kind of moolah to splurge on a luxury car which very few in the industry own. In fact, even the Big B was gifted his Rolls-Royce by Vidhu Vinod Chopra.
What's more, catty sources wonder whether a certain Mr Khan had anything to do with this indulgence. In fact, even when she flaunted her 20 carat solitaire, which she confessed was gifted by her dad, not many were willing to buy that story.
And now, rumours of her having made up with SRK are doing the rounds. Industry sources insist that the friendship which had cooled off in the last couple of months is going strong once again
. Well, guess Priyanka will just have to learn to live with this 'idle talk.'
http://www.deccanchronicle.com/131215/en...s-laughter
---

11-24-2014, 02:12 PM
Post: #28
ktm gal
Dreaming of Salman's Wedding
Salman Maniac

Posts: 14,608
Joined: Jan 2008
Reputation: 0
RE: Priyanka Chopra
Priyanka Chopra surprises by attending Arpita wedding
Nov 19, 2014
Priyanka Chopra looked fab in a well-draped blue saree
The actress, who isn't known to be very close to Salman, halted the shooting of Bajirao Mastani for two days to be in Hyderabad
While Shah Rukh Khan was absent at Arpita's wedding, the Bollywood turnout on the whole was impressive to say the least. People were particularly surprised that Priyanka Chopra turned up.
Says a friend of Salman's, "She has hardly been a favourite of Salman. I believe she stalled the shooting of Sanjay Leela Bhansali's Bajirao Mastani for two days to be in Hyderabad for the wedding. Bhansali has an expensive set waiting. But Priyanka chose to fly out for a wedding where her presence was hardly expected."
Ironically Bhansali, who was once one of Salman's closest friends in the industry, was not invited for the wedding.
Priyanka was seen mingling with Katrina Kaif, Karan Johar, Sajid Nadiadwala and Kabir Khan, all of who played hosts.
Most endearing of all was Aamir Khan who stood by Salman receiving the guests. Aamir, who stayed right till the end, went around ensuring that everyone was comfortable.
No member of the Kapoor or Bachchan family attended the wedding. Among Tollywood celebs, while Mahesh Babu could not attend, his wife Namrata Shirodkar made up for his absence. Apart from Sania Mirza and her sister, Ram Charan and wife Upasanna Kamineni, Vishnu Induri and his wife Brinda and Venkatesh and his wife Neeraja were present at the wedding. Rana, meanwhile, was conspicuous with his absence and one wondered if he was busy elsewhere or whether he wasn't invited.
Aamir Khan a hit, Priyanka Chopra a flop
The wedding also saw some really cool moments. Not only did Aamir Khan sing and dance a bit to Aati Kya Khandala but guests also saw his wife Kiran Rao get on stage, sing as well as dance. Mika, who was performing, invited Aamir on stage to sing and Kiran joined in too.
An enthusiastic Mika then called Priyanka Chopra on stage. But unfortunately no one paid much attention to her and she made a quiet exit.
http://www.asianage.com/bollywood/priyan...edding-586
---

12-04-2014, 10:09 PM
Post: #29
ktm gal
Dreaming of Salman's Wedding
Salman Maniac

Posts: 14,608
Joined: Jan 2008
Reputation: 0
RE: Priyanka Chopra
Priyanka Chopra wins back sexiest Asian crown from Katrina Kaif
By PTI |Posted 04-Dec-2014
London: Bollywood actress Priyanka Chopra has won back the crown she lost to Katrina Kaif last year to be named the world's sexiest Asian woman on Thursday.
The 32-year-old actress and singer topped the top 50 list in an annual poll conducted a UK-based weekly newspaper.
Popular TV actress Drashti Dhami, who had led the voting at one stage, narrowly missed out on the top spot to come in second. Fellow TV actress Sanaya Irani came third while last year's winner, Katrina, slipped to fourth place in the race.
"Someone once told me, sexy is what sexy does and you do it best when you are yourself. I don't know what I did to
deserve this but I'll happily accept this title," said Priyanka.
"I am very flattered to have be named 'Eastern Eye's' Sexiest Woman once again. The fact that this is decided from a
public poll across the world makes this even more special to me. Lots of love to everyone who voted and here's to always being yourself," she added.
'Eastern Eye' showbiz editor Asjad Nazir, founder of the 'Sexiest Asian' list and chair of the judging panel, described
this year's number one as an 'important international icon for India.'
"Apart from being one of the most stunning women in the world, Priyanka has demonstrated she is beautiful on the inside too with important humanitarian work," said Nazir.
"She has also become a strong symbol of girl power with projects like 'Mary Kom' and represented her country admirably around the world. That is why more women than men actually voted for her this year and why she was trending across Twitter during the voting process," he added.
The A-list star beat off very tough competition from some of the most stunning women from around the world in the 11th edition of the list. The 2014 rankings have been trending heavily on social media across India and Pakistan during the voting process, with over 10 million votes cast.
The highest new entry was reality TV star Gauahar Khan at number 5 and the second highest new entry was young actress Preetika Rao at 10.
Other Indian television actresses who made the list included Nia Sharma (7th), Asha Negi (12th), Shakti Mohan (13th), Surbhi Jyoti (16th), Hina Khan (23th) and Kritika Kamra (30th).
The highest placed American was 'Anger Management' star Noureen DeWulf (15th), whose parents hail from Pune in India. The highest placed Pakistani was Humaima Malick (20th) and the highest placed British girl was reality TV star Jasmin Walia (32nd). The oldest woman in the list was 47-year-old Bollywood icon Madhuri Dixit (28th).
Other notable Bollywood stars in this year's list include Deepika Padukone (6th), Kareena Kapoor (8th), Sonam Kapoor (9th), Shraddha Kapoor (17th), Alia Bhatt (24th), Mahira Khan (34th), Kangana Ranaut (38th) , Anushka Sharma (47th) and Kanika Kapoor (50th).
The top 50 Sexiest Men list will be released next week.
http://www.mid-day.com/articles/Priyanka...f/15816150
---

05-21-2018, 02:59 AM
Post: #31
Mithun
has no status
Salman Fanatic

Posts: 3,160
Joined: May 2010
Reputation: 0
RE: Priyanka Chopra
Priyanka looked goegeous at the royal wedding -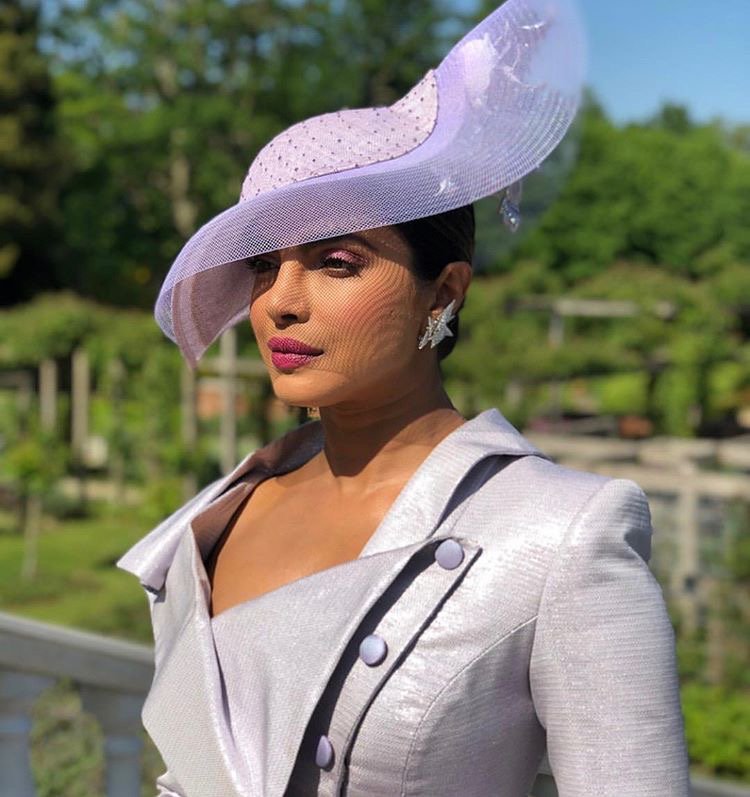 User(s) browsing this thread: 2 Guest(s)