The Official Zarine Khan Topic
02-12-2012, 10:00 AM
Post: #21
ktm gal
Dreaming of Salman's Wedding
Salman Maniac

Posts: 14,608
Joined: Jan 2008
Reputation: 0
RE: The Official Zarine Khan Topic
Zarine Khan turns down item song for Salman
Upala KBR, TNN | Feb 12, 2012, 12.00AM IST
Reportedly, Zarine Khan has given up an item song called "Main Chamiya No 1" because it also features Vivek Oberoi.
Clearly, she didn't want to upset her mentor Salman Khan.
Says a source, "Zarine has been sending out feelers that she wants to do item songs, as she needs the money to buy a house. When good friend Maanayata Dutt heard that Zarine was on the lookout, she spoke to hubby Sanjay Dutt and got her one in his next film 'Zilla Ghaziabad'. Maanayata spoke to Sanju's business manager Dharam Oberoi and got her a decent fee (30 lakh) for it. Zarine loved the song and agreed to do it."
However, when she found out that Vivek Oberoi would also feature in the song, she backed out.
Reveals an insider, "When Zarine heard about Vivek, she got scared. She owes her career to Salman. He turned her from a background dancer into a leading lady. She felt he wouldn't approve of her associating with Vivek in any capacity."
Salman still has to forgive Oberoi for calling a press conference against him nine years ago.
http://timesofindia.indiatimes.com/enter...849191.cms
---

02-17-2012, 10:06 AM
Post: #22
ktm gal
Dreaming of Salman's Wedding
Salman Maniac

Posts: 14,608
Joined: Jan 2008
Reputation: 0
RE: The Official Zarine Khan Topic
Zarine Khan lashes out by producer
Subhash K Jha | Feb 17, 2012, 10.37AM IST
After Deepika Padukone who's being hauled over the coals for her supposed unprofessionalism by producer Ramesh Taurani, it's now Zarine Khan's turn to be pulled up by producer Vinod Bachchan for leaving his film 'Zilla Ghaziabad' in the lurch.
Lashing out at the actress for her unprofessional conduct Bachchan says, "She was finalized to do the item song in my film. Even her costumes were all ready. Then she realized that Vivek Oberoi was in the film. And Salman wouldn't like it if she participated in a film featuring him. What was she doing all the time? Shouldn't she or her business manager have found out details about the project before agreeing to the item song? I had to run from pillar to post to get a replacement at the last minute."
Apparently Zarine opted out as she didn't want to displease her mentor Salman Khan by working in a project featuring Vivek Oberoi.
But an actress close to Salman argues, "She's letting Salman run her life. Does she think Salman would be pleased if she does a check-list of all the people he doesn't like and then stays away from them? By that logic Sanjay Dutt who's very close to Salman should have refused to work with Vivek Oberoi in 'Zilla Ghaziabad'. On the contrary, Dutt has been trying to convince Salman to set aside his differences with Vivek and shake hands. And that's the way it should be. And if she thinks she's being loyal to Salman by not working with his enemies, then she should be rewarded with work. Salman did get her a role in his friend Sajid Nadiadwala's 'Housefull 2'. But beyond that Zarine is yet to benefit from her demonstrative efforts at loyalty."
Vinod Bachchan has apparently suffered losses to the tune of Rs10 lakhs because of Zarine's alleged unprofessionalism. "How can she give up work for personal reasons, and that too when these reasons have nothing to do with her, and when she is practically doing nothing? Today topnotch heroines are vying with one another to get item songs, so they can perform them on stage. Zarine got noticed for her item song in Anees Bazmi's 'Ready'. This could have been her second big item song in a row. Instead she decided to let it go.Very sad."
Bachchan is looking into how to get Zarine to compensate for the losses he has suffered. "We were all set to shoot with her when she pulled this shocker on us. Funnily, Vivek Oberoi is not even part of the item song. Just because Vivek is part of my cast she decided on her own that Salman wouldn't like it if she did our song. Zarine should know that personal equations are not brought into this profession.If she decided to keep away from all the people Salman can't get along with she would be left with very little choices."
Interestingly Salman does carry his aversion to all things Oberoi to his work place. A source close to Sanjay Gupta informs that Salman was pissed off when Gupta had signed Vivek Oberoi for 'Shootout At Lokhandwala'.
Says a source, "Salman had sent a message to Gupta through Arbaaz Khan(who was a part of 'Shootout At Lokhandwala') why Vivek had been signed. So it's likely that he'd get pissed off with Zarine for working in a Vivek starrer."
http://timesofindia.indiatimes.com/Zarin...922769.cms
---

02-18-2012, 11:41 PM
(This post was last modified: 02-18-2012 11:42 PM by ktm gal.)
Post: #23
ktm gal
Dreaming of Salman's Wedding
Salman Maniac

Posts: 14,608
Joined: Jan 2008
Reputation: 0
RE: The Official Zarine Khan Topic
I am not unprofessional: Zareen Khan
Navdeep Kaur Marwah, Hindustan Times
New Delhi, February 18, 2012
Actor Zareen Khan has reacted to filmmaker Vinod Bachchan's allegation that she deserted his film Zilla Ghaziabad after committing to an item number earlier. Bachchan had said that Zareen opted out of the film when she realised that actor Vivek Oberoi stars in the film and didn't want to upset her mentor Salman Khan, known to be on bad terms with Oberoi.
Zareen denies ever agreeing to the song and also says that she has no idea who Bachchan is. "Maanayata (Sanjay Dutt's wife) had approached me for this song which features Sanjay. However, I refused it as I don't want to be typecast as an item girl so early in my career. Sanju treats me like a younger sister and the matter ended there. I don't even know who this filmmaker is." Bachchan, however, says, "Zareen had verbally committed to the item song. In fact, she wanted to do it.
Everything including her costumes was ready. But days before the shoot, she realised that Vivek Oberoi was in the film and said no as she didn't want to upset Salman Khan. I suffered because of her unprofessionalism and had to rope in actor Shriya Saran at the last moment."
However, Zareen says that the allegation is baseless. "I really don't know how the story of Vivek being the reason for my denial came up. This is really upsetting. I am not unprofessional and you can talk to the makers of my upcoming films to know about my professionalism."
http://www.hindustantimes.com/Entertainm...13388.aspx
---

02-23-2012, 09:46 PM
Post: #24
ktm gal
Dreaming of Salman's Wedding
Salman Maniac

Posts: 14,608
Joined: Jan 2008
Reputation: 0
RE: The Official Zarine Khan Topic
Zarine walks out of Delhi's wedding
Garima Sharma, TNN | Feb 24, 2012, 12.00AM IST
Big moolah celebrations in the capital are now incomplete without Bollywood celebs, big or small (depending on the host's budget) shaking their booty, but a party in Delhi on Wednesday night turned ugly as actress Zarine Khan walked out midway during her performance.
Apparently, one of the guests misbehaved with the actress during her performance, forcing her to leave the venue, even though she'd been paid 5 lakh to perform at the particular anniversary celebration at Tivoli Gardens in south Delhi.
A source present tells TOI that Zarine was performing on stage, when one of the guests started showering a wad of 10,000 on her, and there were whistles with each 100 that was thrown on her.
Zarine objected strongly to the behaviour and stopped performing. The cancelled performance lead to a heated debate between the hosts, the event management firm and Zarine, with the actress refusing to return the money that she'd been paid. So, to settle matters, the event managers dialled for police assistance on 100, even as Zarine left for her hotel, while blaming the event managers for the fiasco.
A police official from the Vasant Kunj police station, who met with the event managers late on Wednesday evening, told TOI, "Ek jhagde ki call aayi thi, but there was no physical violence. Zarine ka show tha Tivoli mein where some guy showered money on her. She became upset with the behaviour and stopped performing. When the event manager asked her to return the money since she hadn't completed her act, she refused to do so, saying that it was his fault that the guest misbehaved. We couldn't do anything there since there was no brawl. We told them that this should be dealt with as a civil suit; it's not under police purview. If the event management firm thinks Zarine didn't fulfil her commitment, they should file for a claim."
Zarine didn't respond to our attempts to contact her.
http://timesofindia.indiatimes.com/enter...004872.cms
---

03-02-2012, 10:21 PM
Post: #25
ktm gal
Dreaming of Salman's Wedding
Salman Maniac

Posts: 14,608
Joined: Jan 2008
Reputation: 0
RE: The Official Zarine Khan Topic
ZARINE KHAN -"Salman is my friend, philosopher and guide"
[03 Feb 2012]
As I sit at this suburban café in Mumbai, I suddenly feel like I'm waiting for a girl to show up for a date. The interiors are plush, the lighting is dim, there's soft instrumental music playing in the background, the sofas are cozy… Then I'm jolted out of my fantasy. 'Dude, what're you thinking? It's Zarine Khan you're meeting, not just anyone', I remind myself. Even if I am to give the excuse that saala, for a split moment there, my 'character' went dheela, and so solicit forgiveness, a particular someone will surely beat me up if he gets to know what's on my mind.
Then, Zarine walks in. Clad in a white top, a pair of trousers and sunglasses, she looks very pretty, and that's putting it mildly. Maybe I'll risk a bashing, I think, as my heart skips a beat and my eyes glaze over… Suddenly, the restaurant is empty, it's just the two of us and we're gyrating as the song booms in the background, 'Kudiyon ka nasha pyaare, nasha sabse nasheela hai, jise dekhon yahan woh, husn ki baarish mein geela hai…'
Okay, enough! Focus! Focus! Here's a lady who's made it despite going through tough and depressing times. Her first film, Veer, was a flop, which dove tailed her career into depths of despair. That was a huge blow to her ambition of making it big in Bollywood because she had never imagined she would ever become an actress, despite having dreamt of becoming one since childhood. Even her dreams of becoming a doctor crashed and burned when financial constraints forced her to give up studies and take up a job to support her family. Then again, her limited education qualifications made it tough for Zarine to get a decent job. That was when she took up modelling assignments to put two square meals on the table. So, when Veer tanked at the box office, naturally she was devastated. "I was very angry with life. I used to think, why is this happening to me? I was criticised everywhere, written off for whatever I did — my looks, my dress, my appearance, everything. At one point, I also started thinking that the press had some kind of personal grudge against me," says Zarine, laughing.
Fortunately for her, Salman Khan had become a good friend during the Veer days and eventually offered her the item song Character dheela in Ready, one of his blockbuster films in 2011. That changed everything for Zarine. Overnight, she's become a sensation and filmmakers are signing her for their films. "Character dheela was certainly the turning point of my career. People's perception about me post the success of the song has changed big time. Everyone who used to talk bad about me has started appreciating me and it really feels good. Now when I look back, I feel I am doing comparatively much better and feel proud," she says with a big smile.
However, success is not a utopian state. Now, there is the fear of being labelled 'item girl' and Zarine is steering clear of any and every item number offer coming her way. "I have been offered item numbers but I don't want to do anything that is vulgar or sleazy. If there is something on the lines of Character dheela, I will surely do it," she clarifies.
Meanwhile, the Ready item number paid off. She has signed Housefull 2, the sequel to the 2010 hit film Housefull. As expected though, the makers of Housefull 2 wanted to exploit her item girl image and reportedly asked her to wear a bikini, which she refused. "To be honest, I will never be able to expose or do intimate scenes. The reason I never wanted to become an actress was because we have to expose and I am not at all comfortable exposing," she says diplomatically. Not wanting to reveal too much about her character in the film she says, "All I can say is that I play a supermodel in the film. Housefull 2 is a super mad film. Considering the first part was a hit, I believe the sequel will also do well."
With stardom comes a good dose of controversy, something that Zarine has come to terms with, in a way. First up, her weight issues. At one point, she weighed approximately 100 kilos and had a waist line of nearly 44 inches. So, how did she manage to tackle that problem in a profession that puts a premium on a svelte figure, I ask. Zarine is quite cool about it and says, "I realised no matter how good a person you may be, if your physical appearance is not up to the mark, nobody wants to know you. It was for this reason I made up my mind and started working out to lose the extra weight. Even when I lost the extra kilos, I never thought I would become an actress someday. I was a tomboy with no idea of glamour."
When she did become an actress, the worst happened, which no newcomer wants since they wish to establish their own brand — she was compared to Katrina Kaif, not because of her proximity to Salman but because of her uncanny resemblance to Kat. Some wicked people even tagged her 'poor man's Katrina'! This is a touchy topic for Zarine, she bursts out, "It kills my identity as an actress. The entire Katrina Kaif lookalike thing was created by the media. Even before my pictures were out, there were speculations of me resembling Katrina. Frankly speaking, I do not feel I look like her. I really look up to her as she has worked hard and is giving all her contemporaries a run for their money. She is at the peak of her career whereas I have just started. I hope the media helps me shed this tag and supports me to develop my own identity."
To be fair to her, looking like Katrina is perhaps the only thing she has in common with the Ek Tha Tiger actress. Unlike Kat, Zarine is not known to have too many friends in the industry despite having Salman as a close confidante. In fact, there was news that Sonakshi Sinha and she got into a catfight. Apparently at a bash, Sonakshi pushed Zarine while walking past her and later, acted as if nothing had happened. "I do not know from where this has emerged. Nothing of the sort happened. I wouldn't say that Sonakshi and I are the best of friends or that we go out with each other. We go to the same gym and are cordial whenever we bump into each other," she says diplomatically.
Then, she opens up about her industry friendships, saying, "To be honest, whenever I am out and come across a well-known person, I do not talk to them because I don't know them. This is often taken as arrogance on my part, which isn't true. It is just that I am very shy and don't know who they are, so I don't speak to them. Hence, I haven't been able to build contacts."
Finally, I cannot hold it back in me any longer and have to ask her. Like most newcomers who have worked with Salman, she too was linked to him romantically. During the release of Veer, there were reports that she was the new girl in his life, especially since he had broken up with Katrina, reportedly his girlfriend then. Sallu and Zarine had also been spotted together at several occasions, which fuelled further speculation. So, is she or is she not seeing Salman? With the intention of putting an end to the rumours, Zarine says bluntly, "Salman and I were never dating. We are very good friends. He is my friend, philosopher, guide and I am very close to him. It's just that whoever works with Salman gets linked with him."
*Courtesy: Stardust
-- Super Administrator
---

03-12-2012, 03:35 PM
Post: #26
ktm gal
Dreaming of Salman's Wedding
Salman Maniac

Posts: 14,608
Joined: Jan 2008
Reputation: 0
RE: The Official Zarine Khan Topic
Zarine Khan wants to shed item girl tag
New Delhi, March 12, 2012
Zarine Khan is swimming against the tide. While all B-town girls are going into the item number genre, she is running away from it.
Zarine, touted as a Katrina look alike shot to fame with her Character Dheela jig opposite Salman Khan. "I have been receiving a lot of offers for item songs, but I made it a conscious effort not to take them up," Zarine said.
She dropped out of an item number in Zilla Ghaziabad which stars Vivek Oberoi. Seems she doesn't want to anger her mentor, Salman Khan by being a part of rival Vivek Oberoi's film.
http://indiatoday.intoday.in/story/zarin...77357.html
Read more at:
http://indiatoday.intoday.in/story/zarin...77357.html
---

03-13-2012, 09:49 PM
Post: #27
ktm gal
Dreaming of Salman's Wedding
Salman Maniac

Posts: 14,608
Joined: Jan 2008
Reputation: 0
RE: The Official Zarine Khan Topic
Zareen Khan turns princess again
By Joginder Tuteja ,Mar 13, 2012 - 15:25 hrs IST
Once a princess always a princess. This could well be the adage for Zareen Khan (yes, that's the way she is spelled now, and not Zarine Khan) who has gained an entry into a period drama all over again. After being seen as the princess who fell in love with the 'veer' Salman Khan, she is now going further back in time with yet another assignment which is on the similar lines.
"Yes, she is playing a princess all over again. This would be for the Tamil film called Karikalan. It is a step in the right direction for her as this one is a biggie with a multicrore budget. Also, she is the leading lady opposite Tamil superstar Vikram who was seen as Ram in the Hindi version of Mani Ratnam's Raavan. She has already finished one schedule of this film and would soon be resuming shoot after the release of Housefull 2", informs a close friend of Zareen.
For Zareen it was a tough decision though to step into yet another costume drama. After all, Veer wasn't quite the kind of start that a quintessential Bollywood heroine takes. While she had limited opportunity to show the glamorous side of hers, the below par run of the film meant that she had to bide time before she could step into an item number 'Character Dheela' [Ready] and then play one of the four heroines in Housefull 2.
"However the makers of Karikalan were insistent that she was the best choice for the role due to her prior experience of playing a princess in Veer", adds a source, "Compared to many other Salman Khan heroines who have been seen as mere eye candy in his last few films, Zareen at least had a role to speak of. Moreover she had performed decently in her debut outing, the makers felt that she had the potential of justifying the faith shown in her."
Zareen did discuss the opportunity with her close friends and industry confidantes and finally consented to playing the role. However this too came with a pre-condition that she won't put on any excess weight, as was the requirement in Veer.
Laughs Zareen, "Yes, this time around I wasn't accepting chocolates and sweets on a platter, something that was the case in Veer. At that time everyone made me eat as much as I wanted since I was required to put on weight. I was sure not to repeat that in my new assignment. Moreover there are other Hindi films to look at as well where I have to be slim and fit. Thankfully the makers agreed as well so it turned out to be a win-win situation for me."
http://www.bollywoodhungama.com/more/new...id/1421658
---

03-13-2012, 11:07 PM
Post: #28
ktm gal
Dreaming of Salman's Wedding
Salman Maniac

Posts: 14,608
Joined: Jan 2008
Reputation: 0
RE: The Official Zarine Khan Topic
---

03-16-2012, 06:38 PM
Post: #29
ktm gal
Dreaming of Salman's Wedding
Salman Maniac

Posts: 14,608
Joined: Jan 2008
Reputation: 0
RE: The Official Zarine Khan Topic
Zarine Khan 'In' Katrina Kaif 'Out' for David Dhawan?
Published on: Fri, 16 Mar 2012 at 21:20 IST
Mumbai: Remember David Dhawan's hit flick 'Partner' starring Salman Khan, Govinda, Lara Dutta and Katrina Kaif? Rumour mills abuzz that Zarine Khan will be playing the role in the second edition of the film that was played by Katrina Kaif in the original!
Zarine, who was tagged as a Katrina Kaif look-alike, has shed kilos for her upcoming Sajid Khan's Housefull 2. She earlier have done sizzling item song for Salman Khan's 'Ready' but now actress want to do good films more than hot item numbers.
The actress who was criticized for being overweight has appeared in sizzling avatar in Housefull 2. It seems that her scorching role in the flick is liked by Dhawan so much that he decided to cast her for the film that too as Katrina's replacement apparently.
Partner 2 is said to go on floors next year.
http://www.pardaphash.com/news/zareen-kh...89800.html
---

04-06-2012, 02:06 PM
Post: #30
ktm gal
Dreaming of Salman's Wedding
Salman Maniac

Posts: 14,608
Joined: Jan 2008
Reputation: 0
RE: The Official Zarine Khan Topic
Zareen: I suffered maximum criticism after VEER
April 6, 2012 01:14:58 PM IST
Joginder Tuteja, Glamsham Editorial
It was a dream debut that any girl stepping into the industry could have hoped for. To be paired opposite Salman Khan in his dream project where she was much more than just a leading lady who was roped in for song and dance routine, Zareen Khan found a platform for herself from where it was only a way up. However, VEER didn't do well at the box office and for Zareen, it was indeed a challenge to keep the momentum going, more so since she hadn't signed any other film during the making of VEER.
am not from a Bollywood background and have come from a non-filmy family. I am still trying to learn the tricks of the trade in Bollywood,'' says Zareen, ''Since VEER didn't do well, I suffered maximum criticism from everywhere. Still, fortunately there were offers coming my way. However I didn't want to take up things for the heck of it. I took every day as a new day and worked on my drawbacks. I guess it was a wise decision because I waited and got a big film like HOUSEFULL 2.''
No wonder, she is considering this as a huge second chance and is pining her hopes on it in a big way.
She says, ''Yes, this is my second chance and I am happy to be associated with a brand like this. It is an honour because not everyone gets such a great opportunity so early in the career. There has been all around positive feedback and people seem to love what they are seeing.''
And how about love of her life? Is there a real life Jolly somewhere hidden in a corner for Zareen? She smiles, ''I don't really want to talk about my personal life. Of course when the time is right, I will.''
We wait for that time Zareen.
http://www.glamsham.com/movies/scoops/12...041203.asp
---

04-07-2012, 11:05 PM
Post: #31
ktm gal
Dreaming of Salman's Wedding
Salman Maniac

Posts: 14,608
Joined: Jan 2008
Reputation: 0
RE: The Official Zarine Khan Topic
My focus is on quality, not quantity: Zarine Khan
Published: Saturday, Apr 7, 2012, 17:30 IST
Place: Mumbai | Agency: IANS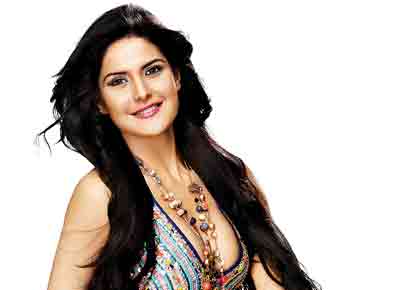 Actress Zarine Khan has featured in just two films in her two-year-old career in Bollywood. She says it's because she is more focused on quality, rather that quantity.
"My life has been very unplanned, but as I have said this before that I plan to do only quality work than quantity work. So that's about it," the 27-year-old said here at a screening of her latest release Housefull 2.
The 27-year-old, who did a cameo as a runaway bride in Ready, and now plays a bride in Housefull 2 again, says one shouldn't take the plunge in real life unless he or she understands the responsibilities that come with married life.
"I am an Indian and I do believe in the institution of marriage. Every Indian girl dreams of getting married one day, but with marriage comes a lot of responsibility. So, I don't think you should take a plunge for the heck of it unless you are not ready for the responsibility," said Zarine.
Zarine debuted in Bollywood with Veer in 2010 and later did a cameo and an item song Character dheela in Salman Khan's 2011 film Ready.
Currently, the actress also has Partner 2 in her kitty. It is a sequel to the 2007 film Partner. Zarine is also shooting for a Tamil film Karikalan.
http://www.dnaindia.com/entertainment/re...an_1672833
---

04-09-2012, 12:21 PM
(This post was last modified: 04-09-2012 07:33 PM by ktm gal.)
Post: #32
ktm gal
Dreaming of Salman's Wedding
Salman Maniac

Posts: 14,608
Joined: Jan 2008
Reputation: 0
RE: The Official Zarine Khan Topic
New Delhi, April 9, 2012 | UPDATED 12:12 IST
Fat chance for Fatrina in big Bolly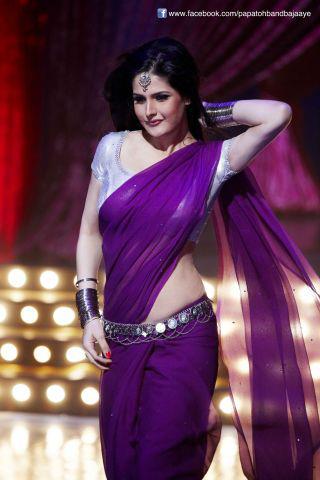 She had earned the unflattering moniker, Fatrina, and has often been at the receiving end of a lot of contempt for her out of shape body. But all the criticism not withstanding, actress Zarine Khan is a happy woman these days.
And it's all thanks to the fact that Bollywood actresses are now piling on pounds to give superhit performances. The 27-year-old actress had debuted in Bollywood in 2010 with the period film, Veer, opposite Salman Khan.
Zarine said she had put on weight for the film but people failed to understand that. "I was a newcomer and was asked to put on weight for Veer since I was playing a princess from the era gone by. I received a lot of criticism from those who were supposed to understand such intricacies of cinema. Things have changed today.
Heroines are piling on weight and delivering superhits. It feels superb," Zarine said, referring to Vidya Balan's performance in The Dirty Picture. The actress said she was hurt by the series of critical remarks, and so, decided to shape herself up." Criticism did hurt but I took all that in my stride. I understood that to be a leading lady in Bollywood, I have to get into a better shape," the actress said.
An in-shape Zarine is back with a bang in her latest film, Housefull 2. "People will see the new me in the movie. I am happy to be playing this superhot glamourous girl and am looking forward to the audience's reaction," she said.
The actress was last seen in the hit film, Ready, matching steps with Salman in the popular number Character Dheela. Zarine considers the Sajid Khan directed film her second chance.
http://indiatoday.intoday.in/story/zarin...83588.html
---

04-16-2012, 10:49 PM
Post: #33
ktm gal
Dreaming of Salman's Wedding
Salman Maniac

Posts: 14,608
Joined: Jan 2008
Reputation: 0
RE: The Official Zarine Khan Topic
No 'item girl' label for Zareen Khan
Ano Patel, TNN | Apr 16, 2012, 12.00AM IST
She is tall and is known for her curvaceous figure in B-Town. Zareen Khan, who was "practically written off after Veer", is currently riding high on the success of her recent hit - Housefull 2.
"It feels great to deliver a hit. After all the criticism I got for Veer, I was scared to even step out of my house. A hit was important," she says. She smiles and adds, "It feels wonderful, now I am being hooted as the hottest heroine of the movie."
With The Dirty Picture bringing the curvaceous Indian women back into the limelight, Zareen says, "I love Kareena but for me, size zero was never in. She looks amazing with more weight on her. Indian women have always been full-bodied and men like voluptuous women. Size zero is a concept of the West and it is only meant for the runway models, not for us."
Zareen, who will be seen next in the sequel to the comic flick Partner (where she has replaced Katrina Kaif), feels that it is safer to do comedy films for her at the moment. She says, "I debuted in a movie where I had a very heavy role. People did not accept me in that character. I relate to the comedy roles that I am doing at the moment. So I have decided to stick to that for the time being. I don't think it will typecast me in the comedy genre."
Zareen's association with Kat goes back to the time when she entered the entertainment industry. For someone who has always been known as Katrina Kaif's lookalike, Zareen is happy that she is gradually losing the tag. Zareen quips, "Even before I entered the industry, it was fed into people's brains that I look like Kat. And Indian audience has very convenient memory; they will only see what is shown to them and will not bother to make their own opinion."
Zareen recently made news for allegedly refusing to do an item song in Zilla Ghaziabad for which she had initially agreed. The reasons cited as the presence of Vivek Oberoi in the film created some controversy and critics talked about her unprofessionalism. Zareen, unhappy with the entire event, clears her stand and says, "It is an unwanted controversy and the entire issue has been blown out of proportion. Manyata is a friend and I am like Sanju's ( Sanjay Dutt) younger sister. I have heard the song and it's fabulous. But I had already spoken to Manyata that if I do another item number at this time, I would be categorized as an item girl. I don't want to be labeled as that. Vivek is not even a part of the song."
Although her entry in the entertainment industry was not much of a problem, Zareen feels she has had to struggle a lot after her debut to be accepted in the industry. For someone who's had a difficult early life, she avers, "I don't have a star boyfriend or father. So I have to work very hard."
http://timesofindia.indiatimes.com/enter...675433.cms
---

04-18-2012, 10:12 AM
Post: #34
ktm gal
Dreaming of Salman's Wedding
Salman Maniac

Posts: 14,608
Joined: Jan 2008
Reputation: 0
RE: The Official Zarine Khan Topic
Zareen Khan: From fatty to hottie?
04.18.2012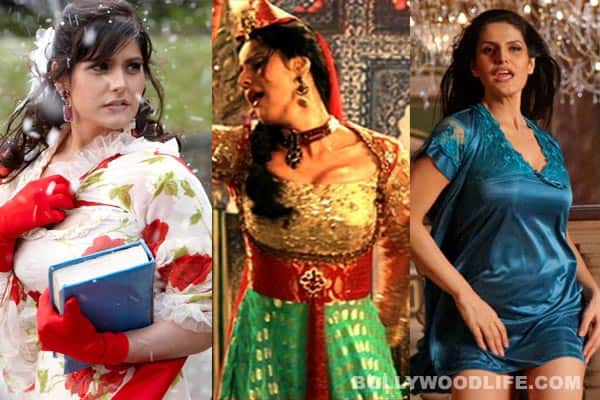 In a recent poll, the actor was voted the hottest amongst her Housefull 2 co-stars
When Zareen Khan made her debut in Salman Khan's Veer, she received a lot of criticism for being on the heavier side. She defended herself saying that since Veer was a period film, the concept of size-zero didn't exist back then. While some bought her argument, most of her peers continued to crack jokes at her expense. Thanks to her striking resemblance to Katrina Kaif, some of her nastier contemporaries began calling her 'Fatrina'.
For a very long time she remained out of work and though she was being touted Sallu's current love interest around that time, she didn't find many takers. Things changed after the 'Character dheela hai' song got turned down by most of the top league ladies. The lyrics of the song didn't go down well with the girls so the 'blockbuster' Khan decided to go for Zareen. She agreed to do the song and it went on to become one of Sallu's most popular songs.
Thanks to the popularity of that number, Zareen bagged a role in Sajid Khan's multi-starrer, Housefull 2. Though the critics brought the film down, the audience made it a runaway hit. Subsequently an online poll was conducted to find out, who among the Housefull 2 girls, Asin Thottumkal, Jacqueline Fernandez, Shazahn Padamsee and Zareen were the hottest. Much to our surprise it was Zareen who topped the poll.
There could be two reasons for this: either people have started appreciating curvy heroines after the success of Kareena Kapoor's 'Chammak challo' and Vidya Balan's The Dirty Picture or Zareen has managed to get into better shape. While some people still continue to debate if the Veer actor has really lost the extra kilos, Zareen maintains that she has shed a considerable amount of weight after Veer.
And we wonder how much of the credit for her weight loss goes to the 'Dhinkachika' dude.
Do you really think Zareen has gone from fatty to hottie?
http://www.bollywoodlife.com/news-gossip...to-hottie/
---

09-13-2012, 05:47 PM
Post: #35
ktm gal
Dreaming of Salman's Wedding
Salman Maniac

Posts: 14,608
Joined: Jan 2008
Reputation: 0
RE: The Official Zarine Khan Topic
Salman Khan's friend approached for Aishwarya Rai Bachchan's film?
Updated: Thursday, September 13, 2012, 11:49 [IST]
Posted by: Nabanita
Superstar Salman Khan's friend cum Veer co-star Zarine Khan has been reportedly approached for a role in a Hollywood movie, that was earlier chalked out for Aishwarya Rai Bachchan. Zarine has recently revealed of being approached to be a part of author-turned-director Daniel Silva's Chimera, but she is still brooding over the offer.
It is also being said that Chimera is the same Hollywood film, for which Aishwarya Rai was approached first. Talking to the media persons, Zarine said, "I have been offered the film but I am thinking about it. It is a thriller called Chimera opposite Billy Zane. I have read the script but I am still thinking about it."
"I really don't want to be in the race of newcomers, who are just running after the projects. It's not that I haven't been offered films. I have been offered a lot of films after Housefull 2, but I want to take my time and do quality work rather than quantity. Though would take time but I would like to follow it," she added.
http://entertainment.oneindia.in/bollywo...99391.html
---

01-04-2016, 12:18 AM
Post: #36
ktm gal
Dreaming of Salman's Wedding
Salman Maniac

Posts: 14,608
Joined: Jan 2008
Reputation: 0
RE: The Official Zarine Khan Topic
Here's How Salman Khan Changed Zarine Khan's Life
By BusinessofCinema News Network on January 2, 2016
Actress Zarine Khan has shown great progress in the Bollywood industry despite the slow pace of her career. From being mocked as healthier version of Katrina Kaif to being called as an average actress, Zarine has faced lot of harsh reviews from Bollywood. However the actress is a fighter and has moved forward against all odds due to much needed support from Salman Khan. Take a look at Zarine Khan's life journey before and after Salman Khan entered her life:
See More Pics Here:
http://businessofcinema.com/bollywood_ho...ife/268718
---

Possibly Related Threads...
Thread
Author
Replies
Views
Last Post
~~::The offical Kareena kapoor Topic::~~
ktm gal
49
68,766
09-22-2017 12:40 AM
Last Post: Mithun
The Official Shah Rukh Khan Topic!
Mistahlilg
525
684,982
12-21-2015 08:54 PM
Last Post: ktm gal
The Official Aamir Khan Topic!!
*Mini*
570
724,146
12-02-2015 10:52 PM
Last Post: ktm gal
~~::The offical Ranbir kapoor Topic::~~
khawar
130
187,466
11-25-2015 12:31 PM
Last Post: ktm gal
Official Sanjay Dutt Topic
shefali
39
60,406
08-28-2015 06:35 AM
Last Post: ktm gal
Imran Khan
Maria
56
86,462
07-13-2015 06:33 PM
Last Post: ktm gal
The official Preity Zinta Topic
*Mini*
121
173,019
09-13-2012 09:03 PM
Last Post: ktm gal
* The Official Topic - Govinda *
Guest
21
35,878
03-28-2012 02:00 PM
Last Post: ktm gal
The official Salrina thread
rhea
2,260
2,371,683
03-29-2011 12:05 AM
Last Post: moimeme
Actor-filmmaker Feroz Khan passes away at 70
Maria
3
8,869
05-02-2009 01:55 AM
Last Post: Guest
User(s) browsing this thread: 1 Guest(s)