~~::The offical Ranbir kapoor Topic::~~
02-11-2015, 12:33 PM
Post: #123
ktm gal
Dreaming of Salman's Wedding
Salman Maniac

Posts: 14,608
Joined: Jan 2008
Reputation: 0
RE: ~~::The offical Ranbir kapoor Topic::~~
I am not engaged - Ranbir Kapoor finally breaks his silence
February 8, 2015
Ranbir Kapoor has finally broken his silence on the many reports of his engagement to Katrina Kaif and their marriage plans.
Ranbir cleared all rumours of his engagement to Katrina in an interview to a leading daily. He rubbished all such reports and clearly stated that one cannot hide an engagement and when it does happen for him, he will declare it to the world himself.
Ranbir also made a strong point on how he wished that the media and the tabloids would stop making assumptions about his life as it leads to spoiling the events when they do actually take place.
"I don't want to sound like a cry baby, but audiences are making strong perceptions about you based on what they read and unfortunately, that's not about your work. So, it's a catch 22. But, I do hope my work speaks 10,000 times more than a factually incorrect article written about me.", said Ranbir in his interview.
Well Ranbir seems to have made his views on his proposed engagement clear and we wish the actor the best in his personal and professional life.
http://www.pinkvilla.com/entertainmentta...nt-katrina
---

02-17-2015, 01:08 PM
Post: #124
ktm gal
Dreaming of Salman's Wedding
Salman Maniac

Posts: 14,608
Joined: Jan 2008
Reputation: 0
RE: ~~::The offical Ranbir kapoor Topic::~~
Roy First Monday Business - Huge Crash
Tuesday 17 February 2015 12.00 IST
Roy crashed on Monday with collections of 2.75 crore nett. The drop is a huge 70% from Friday. The first four day business of Roy is as follows.
Friday - 9,25,00,000
Saturday - 10,00,00,000
Sunday - 5,50,00,000
Monday - 2,75,00,000
TOTAL - 27,50,00,000
The drop is the sort that is rarely seen and the first week business will be around 34 crore nett.
http://boxofficeindia.com/Details/art_de...OMu3XmzWHt
---

02-26-2015, 04:50 PM
Post: #125
ktm gal
Dreaming of Salman's Wedding
Salman Maniac

Posts: 14,608
Joined: Jan 2008
Reputation: 0
RE: ~~::The offical Ranbir kapoor Topic::~~
Katrina Kaif already Mrs Ranbir Kapoor?
Thu, February 26, 2015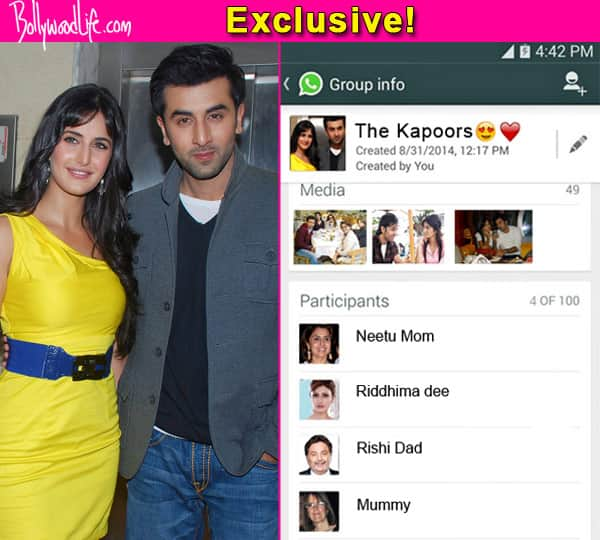 Here's some delicious hot scoop served exclusively for BollywoodLifers!
Katrina Kaif is already Mrs Ranbir Kapoor! Why do we say so? Well, Ms Kaif is bonding big time with her in-laws, Neetu Kapoor and RK Jr's sister Ridhima. So, we weren't surprised when our khabroo told us that Kat has started a WhatsApp group and named it…. Any guesses?
The Kapoors! That's right, Ranbir's girlfriend is the admin of this group and has added her near and dear ones which include Neetu Kapoor, Rishi Kapoor, Ridhima Kapoor Sahni and her mother Suzanne Torquette. Clearly, looks like Ms Kaif is already one of the Kapoors!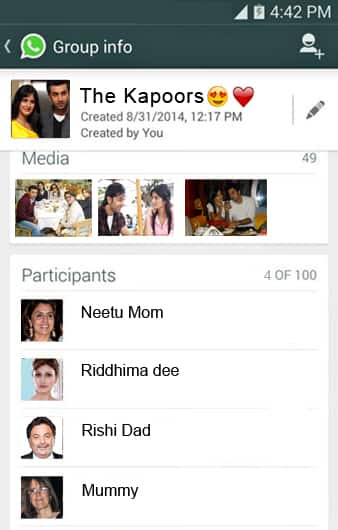 (Image for illustration purpose only)
Even more garma-garam khaber is that Ranbir's daddy dearest has already excused himself from the group. So, Rishi is the first one to exit this family WhatsApp group. We're sure that the actor didn't wanna be a part of the girlie banter. Was Katrina sad after his exit? Keep watching this space to find that out!
http://www.bollywoodlife.com/news-gossip...ir-kapoor/
---

02-27-2015, 09:01 AM
Post: #126
ktm gal
Dreaming of Salman's Wedding
Salman Maniac

Posts: 14,608
Joined: Jan 2008
Reputation: 0
RE: ~~::The offical Ranbir kapoor Topic::~~
WOW…Rishi Kapoor joins Twitter, should Ranbir Kapoor take a cue?
Fri, February 27, 2015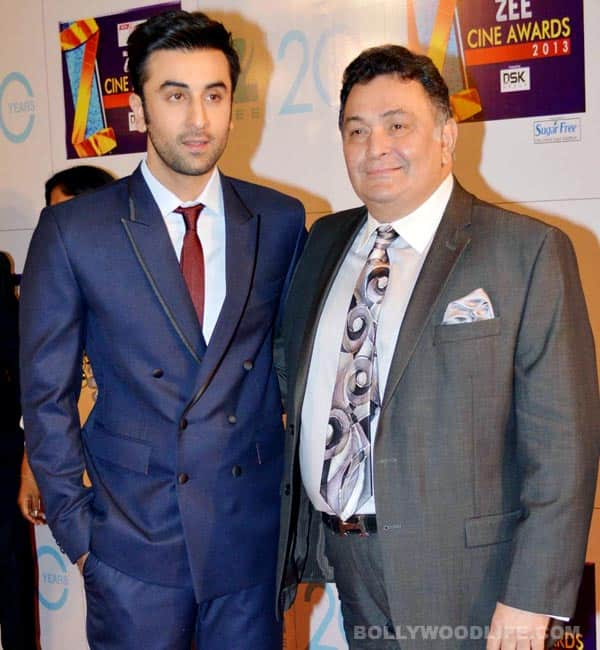 Yes, we finally have someone from the Kapoor khandaan on Twitter and its none other than RK's daddy dearest!
Guys here's some awesome news for all you social media fanatics! The very versatile and witty actor Rishi Kapoor is on Twitter. Though Neetu Kapoor's hubby joined the popular social networking site long back, its since yesterday that he has actually started exploring the platform. And the first person to welcome him on Twitter was Abhishek Bachchan. The Housefull 3 actor tweeted last night, "Crew show some major love to one of my all time favourites @chintskap Rishi Kapoor. Welcome to the chaos Chintu Uncle.Awesome to have u here."
To this the Agneepath baddie replied, "Thank you @juniorbachchan for the welcome. Happy to be here." He then tweeted about late producer-director Manmohan Desai. Mr Kapoor wrote, "Happy birthday Manmohan Desai. Your films live forever. Thank you for working with me. God bless your soul."
Apart from Jr Bachchan, even we are thrilled to have Rishi Kapoor on social media. Guess his ladla beta Ranbir Kapoor should take a cue and join Twitter ASAP. After all, its the best way to stay connected with your fans and of course we all want to know what's happening in his life. And if Jr Kapoor comes on Twitter, who knows maybe hi ladylove Katrina Kaif will also follow suit. Now that would be even better, no?
http://www.bollywoodlife.com/news-gossip...ake-a-cue/
---

03-02-2015, 03:33 PM
Post: #127
ktm gal
Dreaming of Salman's Wedding
Salman Maniac

Posts: 14,608
Joined: Jan 2008
Reputation: 0
RE: ~~::The offical Ranbir kapoor Topic::~~
Ranbir Kapoor walks out on being questioned about Katrina Kaif!
Mon, March 2, 2015
The actor is in no mood to comment about his relationship with Kat…
With obvious evidences showing up, Ranbir Kapoor and Katrina Kaif's relationship is constantly grabbing headlines. And the only question bothering everyone at the moment is – when are the two getting married? Out of curiosity, a reporter quizzed Ranbir on the same at a recent event. But his reaction was so not called for…
The Bombay Velvet started off on a lighter note saying, "I haven't decided when I'll get married. I've always believed that marriage is something which should happen organically. I am not that kind of person who'll say that 'I'm 32 now. Let's get married,' or 'Time is running out'. I'm very happy with my life right now. When I feel I want to have children or the day my partner and I feel that it's an organic thing now to get married, is when I'll marry."
However, things took an unpleasant turn when the reporter further tried clarifying a rumour of Kat being a part of a whatsapp group that just has the Kapoor family! If you remember, BollywoodLife had EXCLUSIVELY brought to you this report a few days back. But Ranbir being secretive about his personal life, shunned the whole discussion then and there and just walked out saying, "Thank you."
Quite an arrogant denial?
http://www.bollywoodlife.com/news-gossip...rina-kaif/
---

03-06-2015, 10:59 AM
Post: #128
ktm gal
Dreaming of Salman's Wedding
Salman Maniac

Posts: 14,608
Joined: Jan 2008
Reputation: 0
RE: ~~::The offical Ranbir kapoor Topic::~~
Neetu Singh paints our imagination red with rk-dippy holi photo!
March 5, 2015
We saw Rishi Kapoor share some golden memories of 'Holi' via pictures today. Wifey Neetu Kapoor followed suit. However, Mrs Kapoor went for a more recent 'Holi' picture featuring her superstar son Ranbir Kapoor and his ex-girlfriend Deepika Padukone. She wrote on her social networking handle, "A Happy Joyous Colourful Holi to all my Insta Buddies."
The choice of the picture however created a frenzy among fans. These are some of the comments that came her way:
"Bring them back together!! @neetu54 i beg of uu!!"
"By putting photos of Ranbir with Deepika u are igniting the hope of many RK-DP shippers. Are u aware of if? If that happens that will be the fairy tale.."
"@neetu54 Thank U for posting this.. Bhagwan aap aur RK DP ko hamesha khush rakhe.. <3"
Well, what do you think of the choice of pic?
http://www.pinkvilla.com/entertainmentta...-nostalgic
---

04-24-2015, 09:26 PM
(This post was last modified: 04-25-2015 05:32 PM by ktm gal.)
Post: #129
ktm gal
Dreaming of Salman's Wedding
Salman Maniac

Posts: 14,608
Joined: Jan 2008
Reputation: 0
RE: ~~::The offical Ranbir kapoor Topic::~~
I don't cry anymore, I can't remember the last time I cried: Ranbir Kapoor
Deccan Chronicle | April 24, 2015
Mumbai: Ranbir Kapoor is one actor in Bollywood who chooses to stay away from controversy. He isn't active on any social media platforms, and tries his best to stay away from the eye of the paparazzi. According to recent reports, he has even decided to make limited appearances for his film promotions, to avoid uncomfortable personal questions.
According to a recent report in Mumbai Mirror the actor was over heard having a conversation with a friend. Ranbir recently read Albert Camus' bestseller 'The Outsider' and was able to relate to the protagonist Mersault.
The actor was overheard saying, "I don't give a damn anymore. I identify with `The Outsider'. I think I am him. I could not put the book down and read it in six days straight. I also don't cry anymore. I cannot remember the last time I cried. I am hoping I get to play this character on the big screen since I identify with him."
The titular character of 'The Outsider', Meursault is an indifferent French Algerian who, after attending his mother's funeral, apathetically kills a man. Author Albert Camus had explained his protagonist as, "In our society any man who does not weep at his mother's funeral runs the risk of being sentenced to death.I only meant that the hero of my book is condemned because he does not play the game."
It would be very different to see this shade of Ranbir on screen. The actor has mostly portrayed happy-go-lucky characters onscreen. However he will be seen in a darker role in Anurag Kashyap's thriller 'Bombay Velvet'.
http://www.deccanchronicle.com/150424/en...ied-ranbir
I identify with 'The Outsider', I don't cry anymore: Ranbir reveals his darker side
http://www.pinkvilla.com/entertainment/i...arker-side
---

11-25-2015, 12:31 PM
Post: #130
ktm gal
Dreaming of Salman's Wedding
Salman Maniac

Posts: 14,608
Joined: Jan 2008
Reputation: 0
RE: ~~::The offical Ranbir kapoor Topic::~~
Ranbir and Deepika weigh in on love, affairs, relationships, commitment, infidelity and one night stands
Melissa D'Costa D'Silva and Harshada Rege
Since their upcoming film Tamasha is all about love and relationships, we decided to quiz RK and DP on it. Friendship is finishing each other's sentences. That's the comfort level and camaraderie that Ranbir Kapoor and Deepika Padukone share and was evident when they dropped by for a tete-a-tete with the After Hrs team. Here's revisiting the witty repartee between the two stars.
You went on Bigg Boss, Ranbir didn't. Do you think it helps to promote films on TV shows?
Deepika: I don't think I understand promotions enough to say if TV helps or a publication helps or whatever. We all work really hard on whatever film we do and promotion is that last leg of being able to reach out to an audience and create that awareness about your film. So, I definitely believe that promotion for a film is important, but it is not necessarily the mantra or a formula to a successful film. At the end of the day, the only thing that will truly sustain is a good film. But yes, promotion is important and it does give a film that extra push..
Ranbir: There are two ways to it. We don't know if people have gone to see the film because the film's content is good or because we went to promote it on a particular reality show. Aamir Khan is against going on reality shows. He says when you go on reality shows the audience is seeing you as a star. That's necessarily not going to convert into ticket sales. When you go to a mall and you wave out to fans, those people are seeing you as a star.
Unless your content and music and your desirability of a story is good, that is going to reflect in your box-office collections. So there is no tried and tested formula, but that's become the norm. Everyone does it, so you have to follow suit because there's a lot of money involved. It's the producers' call, and actors can't take that stand. I don't think we have cracked marketing completely. We now have digital platforms where the reach is so large. I think soon that breaking point is going to come in and we may be able to finally figure what marketing is all about.
Is it more tiring to promote a movie than shoot for it?
Both: Yes!
R: You don't get time to go to the gym, you don't get time to eat your food, you are always on the run, you are saying the same things over and over again so sometimes you lose the sense of reality because you start repeating yourself. You start searching for new answers and new words and you sound like such an idiot, but you can't tire yourself. It's also your job. And you have made the film with lot of love, hardwork, money. So you have to say the best things possible.
Name an actor who could have played your role in Tamasha.
R: (Without thinking) Deepika. She could play a double role as she is good enough.
D: (Laughs) In that case, he can do my role.
When was the last time you created a tamasha or made a scene?
D: He does it everyday. When he does not get his lunch.
R: Tamasha is used in a negative way sometimes, but it is misunderstood. It's also a positve way of saying entertainment, spectacle, etc, but if you're asking me in a negative way, I am non-violent, not interfering person. It's being projected that there are lot of interesting things happening in my life but it's pretty much a uni-
dimensional life. There's not much happening.
Complete the sentence...
Love is...
R: (Sarcastically) definitely what Archies Galleries and Hallmark Cards promise you.
D: For me love is what you see in the movies. Love is the greatest feeling in the world.
Commitment is...

R: A word from a dialogue from Salman Khan's film.
D: Very essential.
R: (Butts in) It's a promise.
D: (Cuts in) We are not defining commitment. I don't want to define what commitment is, but for me, commitment is very very essential for a successful relationship.
I am...
D: Sensitive and emotional.
R A good guy (trying hard to keep a straight face).
My mom means...

R: Business.

D: Comfort, warmth, security.

R: My mom means ...life.

D: You said the right thing: My mom means business.
Romance is..
D: I don't like compartmentalising feeling and emotions, I don't know if there's a difference between love and romance. It can mean different things to different people, but I really hope that everyone gets to experience that feeling at some point in their life in the true sense because like I said, it is truly the best experience in the world.
R: Romance is the only time well spent.
Lust is...
R: Temporary.
D: I agree with him.
Cheating is a...
R: Sin.
D: (Laughs) Sin? Really? I think Cheating is disrespectful.
News is...
R: Responsibility
D: Reality of the situation.
My favourite love story...
D: Very clichéd and might be boring for others, but it's my parents' story.
R: Lion King. The love story between Simba and Laila. And the film I make when I direct.
My favourite love song...
R: Kabhi Kabhi Mere Dil Mein and also, Dekha Ek Khwaab...I think Yash Chopra songs. Let's name our songs also Khuda Jaane from Bachna Ae Haseeno.
D: Kabira and now, Agar Tum Saath Ho. It's a song people will listen to even years from now.
Tamasha is...
R: An Imtiaz Ali film.
D: (Immediately) Releasing on November 27.
The English word for Tamasha would be...
R: Spectacle.
D: Passion.
Social media is...
R: It is the new medium to express yourself...sometimes over express yourself (laughs).
D: Addictive.
Ex boyfriends/girlfriends are...
D: Comfort.
R: Instrumental in your growth.
Marriage is...
D: An institution that I strongly believe in.
R: Important.
A love triangle is...
R: An interesting movie plot. I was telling Karan (Johar) why don't you make love triangles? Directors like him can get a good cast also.
De: He's thought of one actually.
R: Par kya hai ke conflict kya hai uss mein?
D: Arre...what triangle are you talking about...there's Bajirao Mastani.
R: Correct.
D: Cocktail too was one...
R: Ya, Cocktail was a new take on triangles...so you have done many triangles actually..(laughs).
A live-in relationship is...
R: Wonderful.
D: Not something I subscribe to. I am very traditional like that.
Home is...
R: Where the heart is...
D: Aiyyo, yaar...
R: You were gonna say that?
D: Yes! I will go with that, too.
Acting is...
Both: Life.
Promotions are...
D: Fun.
R: Death (laughs). No, but you have to enjoy it too.
Life is...
R: Life Is Beautiful is the best movie ever made in the world.
D: What you make of it.
Success is...
R: Well-earned.
D: A result of hard work. And hopefully, you can use that to channelise to impact other lives in a positive way.
This or that?
Beyonce or Rihanna?
D: Beyonce
R: Rihanna
Ranveer Singh or Yuvraj Singh?
D: Ranveer Singh
R: Ranveer Singh
Crop tops or crop circles?
D: What are crop circles? I have never heard of them... Crop tops
R: Crop tops
Tom Cruise or Tom Ford?
D: Tom And Jerry ka Tom
R: Can I say Tom Alter
Long hair or long legs?
D: Long hair
R: (Thinks for a while) Long legs
Short skirt or short boyfriend?
D: Short boyfriend
R: Short skirt... I don't have short boyfriends
A fling or a one-night stand?
D: Neither. Commitment
R: A movie
Lipstick or lip balm?
D: Lipstick...a red one
R: Lip balm...I hate lipstick on me
Pizza or pasta?
D: Pizza...rasam rice, actually
R: Pizza
Suits or shorts?
D: Suits
R: Suits
Briefs or boxers?

D: Boxers

R: Briefs

D: Lies... rubbish.. He has the cutest boxers by the way
Clean shaven or stubble?
D: Stubble
R: Stubble
Happy films or sad films?
D: Emotional films
R: Happy films
Cricket or football?
D: Football
R: Football
Sania or Saina?
D: Saina, anyday
R: Saina for me, too
Books or kindle?
D: Books
R: Books
Music or lyrics?
D: What is music without lyrics? Between the two, I'll pick music
R: Music
Instagram or Snapchat?
R: Instagram
D: I prefer the classic way " take picture, print them and put them in an album
Tea or coffee?
D: Tea
R: Coffee
Fast & Furious or Transporters?
D: I would say Fast & Furious, I am biased towards that
R: Dhoom
---

User(s) browsing this thread: 7 Guest(s)