---
Sonakshi Sinha - ktm gal - 05-10-2011 10:21 AM



Sonakshi sports Chulbul Pandey's goggles



by Yashika kapoor - May 9, 2011




The 'Dabangg' girl Sonakshi Sinha has grabbed more awards for her debut film than any other newcomer, and it seems that she is unable to get over the Chulbul Pandey craze till now, as she was seen sporting Salman's heart shaped goggles of 'Dabangg' in her upcoming venture 'Joker'.

The goggles were sported by Chulbul Pandey (Salman Khan) in the promotional posters of 'Dabangg', and they even became a fashion statement for many Sallu fans.

"If that's not enough, the actress will even be seen gyrating on an item song in desi choli and ghagra, just like Munni of Dabangg," reported a source.

Veteran actor Shatrughan Sinha's daughter has for sure got a hangover of her debut movie and is also all praises for her mentor Salman.



Sonakshi has no problem with other actresses


Meanwhile, though reports claimed that the actress has a problem with her co-actresses in the film industry, Sonakshi denied the gossips and said that it was all cooked up and she had no problem with other actresses.

"Every morning I wake up wondering who is going to be the next person I am supposed to be fighting with. It's better to just focus on work," said the actress.

The rumors about her cat fight with the 'Rab Ne Bana Di Jodi' famed Anushka Sharma and 'Veer' famed Zarine Khan, have also been slammed by Sonakshi.


---
RE: Sonakshi Sinha - ktm gal - 05-10-2011 11:23 PM



Why the fuss over Sonakshi Sinha?


Published: Monday, May 9, 2011, 10:28 IST
By Aakanksha Naval-Shetye | Place: Mumbai | Agency: DNA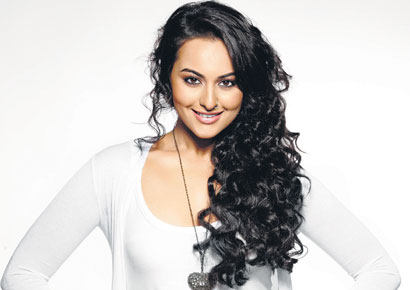 Actress Sonakshi Sinha may be barely a film old in B-Town, but the Dabangg star has enough controversies up her sleeve to give tagdi takkar to some of the top stars in that department. In fact, industrywallahs point out that never before has a newbie created such a ripple among the big names.

That she is a star kid and is backed by the powerful Bollywood star Salman Khan apart, a superhit in her kitty has already propelled her to a position where she's apparently being taken seriously as competition. Add to that the fact that she has another six biggies to bank on in the coming year.

However, on her climb up, Sinha seems to have rubbed several top actresses the wrong way, including the top-league rated Katrina Kaif and Kareena Kapoor, with reports of her having bagged the same brands as Kat and having beaten Kareena to make it to the top of a web-search being circulated by Team Sona, which then turned out to be just an online poll of a particular website. Then came reports of her having trouble with the other Khan protege Zareen Khan.

Trade analyst Amod Mehra feels that dragging Katrina's name did help her grab the initial eyeballs and add that sensational zing ensuring that she gets written about in that league of actors. "So instead of being compared to the likes of Deepika (Padukone) or Anushka (Sharma) who are relatively direct competition, she's managed to be compared directly to the likes of even bigger stars, automatically upping her own star value," he explains. "There's no denying that her team has helped her create the right stir."

But while some in the industry say that it's her over-confident attitude that's giving her a bad name, there are those who feel that the sassy actor has all reasons to be her confident self.

Mehra adds that the attention, albeit some of it controversial, has only been possible because the girl does have a lot of potential. "No one can take that away from her. That's why she's a worthy competitor and has been making several in her league insecure too," he says.

Trade analyst Taran Adarsh believes that she's a star-in-the-making and gets written about because people want to read about her. "The fact is that she sells. Of course she may not be Miss Popular, but she is definitely the most promising star on the block," he says.




http://www.dnaindia.com/entertainment/report_why-the-fuss-over-sonakshi-sinha_1541068


---
RE: Sonakshi Sinha - ktm gal - 05-11-2011 09:16 AM



'Leave Sonakshi alone'


By: Subhash K Jha Date: 2011-05-08 Place: Mumbai

Poonam Sinha lashes out at reports about her daughter's catfights with A-list actresses

While Sonakshi Sinha is mum about her new reputation as someone who gets into fights with her female co-stars, her parents Poonam and Shatrughan Sinha are far from amused. Though Sinha is reluctant to talk about her rather curious reputation, mother Poonam is anguished.




"We don't know where these stories are coming from. But this is not our daughter. We read she has a problem with Katrina Kaif. Katrina had endorsed the product that Sonakshi has lately started endorsing. The fact is Katrina stopped endorsing that product 10 years ago. So where is the question of any stress over it? When the stories began to sprout, Sonakshi even sent Katrina a message explaining that there was no ill-will. However, Katrina never replied," said Poonam. Those close to Sonakshi feel there is more to these attempts to portray her as a spoilsport, than meets the eye to.

"Every other day, there's a story about Sonakshi having a problem with an actress. Sonakshi is bothered because her parents are disturbed by such reports. She has decided to restrict her social activities to a bare minimum," says a friend of the actress.

"Whether it's Katrina, Zarine or Anushka, they're good girls from cultured families. I feel it's the people around them who are creating trouble. Perhaps, some of them can't bear the thought of our daughter becoming so popular with just one film. There's space enough for everyone. I'm asking everyone to let Sonakshi be. It has become very difficult for her to work in this suffocating an atmosphere," said Poonam.

When asked about her embarrassing reputation of being a belligerent girl, Sonakshi laughed, "Every morning I wake up wondering who is going to be the next person I am supposed to be fighting with. It's better to just focus on work."

http://www.mid-day.com/entertainment/2011/may/080511-sonakshi-sinha-bollywood-katrina-kaif.htm


---
RE: Sonakshi Sinha - ktm gal - 05-12-2011 10:40 PM



Can't call Salman 'bhai' - Sonakshi speaks out about her equation with Sallu and Katrina



Source: Vaibhavi Risbood | Last Updated 13:01(12/05/11)

Sonakshi Sinha with mere one release has become the hot favorite of everyone be it movies or magazine covers. With the latest Filmfare issue she has not only graced the cover page but also in an interview speaks her heart out about Salman Khan, the speculation brewing about her and Dabangg Khan as well as Katrina Kaif.

During an interaction with media, the Sinha daughter said, "Whatever I have said, it's there. When I was asked about speculations with Salman, on which I just said that Katrina and me have shared different connections with him."

Sonakshi also claims that she can't call Salman 'bhai' as she has to maintain the romance on-screen. The actress has met Katrina a few times and says that all is well between the two. She also denies all the reports about the tension brewing between her and Barbie doll.

http://daily.bhaskar.com/article/ENT-cant-call-salman-bhai---sonakshi-speaks-out-about-her-equation-with-sallu-and-katrina-2098047.html


---
RE: Sonakshi Sinha - ktm gal - 05-13-2011 11:25 PM


---
RE: Sonakshi Sinha - ktm gal - 05-16-2011 10:54 AM



Sonakshi adviced to stay low key by Sallu!


Updated on Monday, May 16, 2011, 14:19
Spicezee Bureau

Mumbai: Dusky beauty Sonakshi Sinha has been in news of late for all controversial reasons. She, however has recently been keeping grounded.

She has probably decided to keep it low key for sometime and let her work do the talking.


The actress had been making news of rifts with colleagues from Katrina Kaif to Zarine Khan. Therefore, she has been advised by her mentor Salman Khan to maintain a quiet profile for sometime it seems.

A source told a daily, "Sona was really disturbed after a spate of controversies in the tabloids. Constant comparisons to Kat, getting into catfights with Zarine, all of this worked against Sonakshi. She was on the verge of breaking down. She talked to Salman, who asked her to ignore everything and just concentrate on her work."

Sona has already been following Sallu's advice quiet diligently and she has been working on it quiet seriously. On being contacted by media she has constantly been unavailable. However her friend spoke to a tabloid and confirmed, "All of us feel Sonakshi needs to lie low. From now on her films can do the talking. After all, within a year she has become a rage."


http://spicezee.zeenews.com/articles/story87907.htm


---
RE: Sonakshi Sinha - ktm gal - 06-06-2011 11:09 PM



Sonakshi donates money to Salman's charity



Subhash K Jha, Jun 4, 2011, 10.53am IST

Sonakshi, who sat on the hot seat in front of her host dad Shatrughan Sinha for the Bhojpuri "Kaun Banega Crorepati", has given away a major part of her prize money to Salman Khan's Being Human charity.

Says the "Dabangg" girl, "It's a charity I know, trust and believe in. So yes, I gave away a part of my prize money to Being Human. I am devoted to Being Human because I've seen the charity money move in the right direction. A lot of us want to help the needy. But how do we ensure the money gets to the right place? I've seen Salman help people. I know the money is used in the right way"

About her next film with Sallu, she says, " " Kick" is the remake of a South Indian film.The girl has lots more to do. It's a damn good role. I'm very kicked about "Kick". Yeah, there's definitely much more scope for me in "Kick" than there was in "Dabangg"."

Sonakshi's also a part of "Dabangg 2" and her brother Kush will be assisting director Abhinav Kashyap. Reveals Sonakshi, "Kush wants to direct films. He's assisting Abhinav in directing ads. I don't think Abhinav is directing another feature film right away. As and when Abhinav makes a film I'd love to be part of it, provided he wants me to."

On the Bhojpuri KBC, Sonakshi spoke in Hindi while her dad hosted the show in Bhojpuri. "I had never seen him talk in Bhojpuri. He did it very well. I'm looking forward to doing a film with my dad."

Sonakshi planned to spend the pre-birthday evening quietly with her family. She says, "I am not much of a party girl. Besides a party means reports next day on who all I fought with at the party. My family is more enthusiastic about my birthday than I am. I've never done anything special on my birthday and I'm happy to be in my own little space."

She now starts 3 back-to-back films. "There's "Kick" with Sallu, "Rowdy Rathore" with Akshay Kumar and " Vishwaroopam" with Kamal Haasan. Then there's "Dabangg 2" coming up as well. I'm so glad I'm working throughout the year. Getting success is easier than sustaining it."

For "Vishwaroopam", Sonakshi gets to sport both the Indian and Western look. "I love to see myself in saris. I hope I get to wear lots.We start shooting in June."

Sonakshi says she doesn't feel older, but wiser. "I've realized many things about myself. I realized that when pushed against a wall I can fight back. I can handle all the pressure. More importantly, I always thought I was a very lazy person. But I realized I could work hard. Yes I do my work and I do it well.

As long as I enjoy my work how does it matter what people say or try to do? I guess being talked about is better than being ignored."

About the last year, Sona says, "This last one year has been a rollercoaster for me. It went by so quickly! I wish I had more time to enjoy what was happening to me. I never thought all this will happen to me. I can't ask for more."


http://articles.timesofindia.indiatimes.com/2011-06-04/news-interviews/29620567_1_sonakshi-dabangg-girl-abhinav-kashyap


---
RE: Sonakshi Sinha - ktm gal - 06-07-2011 08:44 PM



Sonakshi & Zarine congratulate Asin for 'Ready'



Joginder Tuteja, IndiaGlitz [Tuesday, June 07, 2011]

For the world out there he may be everyone's 'bhai' but for all his on-screen leading ladies, especially the ones belonging to the newest breed, he is pretty much the man to be adored. No wonder, these girls are so attached to Salman Khan that this virtue has been rubbed on amongst them as well. This was pretty much on display last weekend when Asin, Sonakshi Sinha and Zarine Khan bonded during the special screening of 'Ready'.

"Together they were like a house on fire when Asin, Sonakshi and Zarine came face to face for the screening of 'Ready'. Detractors would have wished for some fireworks or at the least a few cold vibes but to their utter disappointment, the girls interacted and chatted from nineteen to the dozen," informs a fellow actor who was also present for the screen.




Now this came as a surprise to many as each of these three girls is currently on the list of favourites for Salman. The man has already done two films with Asin in the form of 'London Dreams' (flop) and 'Ready' (historic opening). With Sonakshi he has delivered a blockbuster in 'Dabangg' and would also be doing 'Kick'. As for Zarine, though his 'Veer' didn't quite tick, he has promised to do another film with her soon.

"Naturally there have been speculations around rivalry between the three girls," says an industry observer, "However the fact is that such stories are being spread only within the industry circles by the rumour mongers. Between the three of them, there is no ill feel at all. In fact they exchange notes around their films and are also lavish in their compliments."

This was evident a few weeks back when Asin and Zarine congratulated each other when their respective tracks from 'Ready' - "Character Dheela" and "Dhinka Chika" - turned into huge hits. Then on Friday, Sonakshi was quite lavish in praising Asin for her performance in 'Ready' while also stating that she had loved the film. With such bonding, guess the industry diktat of cat fights has been pretty much thrown out of the window by the new breed of girls.

"Exactly, gone are the days when girls indulged in ugly cat fights or bitchy remarks," quips Asin who has successfully managed to stay away from any controversy whatsoever since she was seen first in a Hindi film with 'Ghajini' (2007), "Yes, there is competition but in a healthy way. Everyone is busy and realises that only insecure people carry negative energy with them. Thankfully none of us girls think that that. I guess now you would have to think of new headlines and stories for filling up your gossip pages."

Never say never Asin, we will still manage to find something interesting while doing that. You stay tuned!


http://www.indiaglitz.com/channels/hindi/article/67425.html


---
RE: Sonakshi Sinha - ktm gal - 06-15-2011 09:40 PM



Sonakshi, Shriya at war!


Sarah Salvadore, TNN | Jun 15, 2011, 12.00am IST

Sonakshi Sinha is not known to be the friendliest of actresses. Post her catfights with Katrina Kaif, Zarine Khan and Asin, the latest to join the list is Shriya Saran. And the catfight was on full display at the Celebrity Cricket League finale.

During the Chennai Rhinos' innings, Sonakshi came with a posse of bodyguards and walked towards Sridevi, Boney Kapoor, Subhash Ghai and her father Shatrughan Sinha — who came in especially for the match and were seated near the Team Chennai dugout. She was sitting next to her dad, chatting and cheering.

The highlight of the innings break however, was actor Shriya Saran's much-publicized performance. And no sooner had the actress gone on stage than Sonakashi got up and began walking towards team Karnataka's dugout. On getting a glimpse of Sonakshi, the crowd went ballistic. Ignoring Shriya's performance, they got busy calling out to Sonakshi, who in turn waved at the crowd, causing more commotion.

"Sonakshi clearly tried to steal Shriya's thunder. She does not like anyone getting friendly with Salman and all through the CCL, Shriya has been sharing a great rapport with Sallu. This did not go down well with Sonakshi. What she did at the stadium was very juvenile," says a source. Call it a twist of fate, but Shriya did manage to get back at Sonakshi. "Shriya was slated to perform to 'Munni Badnaam' from "Dabangg." As soon as she began to shimmy, the crowd forgot Sonakshi and began cheering for her instead. Sonakshi, immediately went back to her seat, sulking all the way," adds the source.

"Sonakshi does not like Kat, Asin or even Zarine because they are close to Salman. It's the same with Shriya too. The rivalry between the two however, does not end here. The two are being pitted against each other onscreen in Kamal Haasan's upcoming film, "Vishwaroopam." Maybe that is also an issue," said the source.


http://timesofindia.indiatimes.com/entertainment/bollywood/news-interviews/Sonakshi-tries-to-upstage-Shriya/articleshow/8850705.cms


---
RE: Sonakshi Sinha - ktm gal - 06-28-2011 04:10 PM



Finally, Sonakshi gets Ranveer





The actress, who publicly declared her crush on the actor, stole the show from his girlfriend Anushka at a recent award function



Sayantan Dalal

Posted On Monday, June 27, 2011 at 03:22:20 AM




While Sonakshi Sinha will take away some great memories of her time in Toronto, attending an award function, Anushka Sharma has not been so fortunate. It seems that the weekend started out on a bad note for Anushka and just kept getting worse.

It all began, on June 22, when the actress had to fly solo, rather than in the company of her beau Ranveer Singh, who was only able to fly out the next day.

However, her only consolation was performing with Ranveer at the said awards function. But that too was a short-lived happiness. Despite the couple rehearsing for their performance, Anushka was told at the last moment by organisers that Sonakshi was a better fit.

Previously, Anushka had gyrated to peppy numbers in Rab Ne Bana De Jodi and Band Baaja Baaraat, but she did not seem to impress organisers with her stage performance. A source revealed, "At the last moment Anushka was replaced by Sonakshi to dance with Ranveer. The organisers said that Anushka was not well prepared, and thus they couldn't take any chances."

Sonakshi seems to have lucked out from this whole incident the most. Previously, the actress confessed her crush on Ranveer on a TV show. She couldn't stop gushing about the newbie and said she would have loved to date him, if he was single.

However, when the topic was brought up to Anushka, on the same show, she refrained from taking an insecure girlfriend approach and instead said, "He is all yours. Please go ahead."

But, the latest event has not sat well with Anushka, who was spotted with a sullen face.To make matters worse, while receiving an award Lisa Ray mispronounced her name as 'Anushka Shankar'. Even though KJo was quick to correct that, Anushka's expression said it all.

The actress, however, graciously accepted her award and thanked Karan for correcting the mistake. Fortunately, things seemed to have lightened up for Anushka, when Ranveer, upon accepting his award, said, "Thanks Anushka for making me hot!"

http://www.mumbaimirror.com/article/30/201106272011062703223239175df0333/Finally-Sonakshi-gets-Ranveer.html


---
RE: Sonakshi Sinha - nurainfarizan - 06-29-2011 07:43 AM

Wow sounds like a bowl of crap! Anyways, here's Sonakshi-Ranveer's performing to DHINKA CHIKA!





I think they did a pretty good job!


---
RE: Sonakshi Sinha - moimeme - 06-29-2011 08:51 AM

It's interesting that they had songs from two of Salman's films, even though he wasn't there.

I don't like the choreography for Dhinka Chika here, though. They have made it somewhat cheap, and taken away the innocence of Salman and Asin's performance. Also, the costumes for both Ranveer and Sonakshi were wrong. Sona's because it's way too formal for this kind of street dance (what, she couldn't change into a different dress?) and Ranveer because he's going for more of a "Wanted" look rather than a "Ready" look.


---
RE: Sonakshi Sinha - ktm gal - 07-15-2011 10:42 PM



Shahid Kapoor wants to work with Sonakshi Sinha


TNN | Jul 16, 2011, 12.00am IST

Sonakshi Sinha might forgive but she doesn't forget. The Dabangg actress was in talks to star opposite Shahid Kapoor in his home production, but was replaced at the last minute by Sonam Kapoor.

It seems the makers felt that Sonakshi and Shahid didn't look good together on screen. Shotgun's daughter was to do a screen test, but that never materialised once they decided to get the Kapoor girl. Now the tables have turned and Shahid wants to work with Sona, but she isn't that keen after what happened in the past.

Buzz is that Kapoor has been sending feelers to the actresss through common friends. But it doesn't look like you will see this jodi on the big screen any time soon.


http://timesofindia.indiatimes.com/entertainment/bollywood/news-interviews/Shahid-Kapoor-wants-to-work-with-Sonakshi-Sinha/articleshow/9235480.cms


---
RE: Sonakshi Sinha - ktm gal - 01-10-2012 11:45 PM



Sonakshi Sinha tries to be Salman Khan!



TNN | Jan 10, 2012, 05.00PM IST

Actress Sonakshi Sinha seems to have become superstitious.

The actress, who made her acting debut with Dabbangg, now wants history to repeat itself, and has requested the producers of Lootera to schedule the film's release for Eid.

Salman-Sonakshi-starrer Dabangg released on Eid, and Sonakshi is hoping that the magic works for her again. However, Salman Khan, popularly known to have a release on the auspicious day of Eid, this year to will have Ekk Tha Tiger releasing!

Now, the producers of Lootera find this to be tough competition and have informed Sonakshi that they'll try and release the movie on Bakri Id and not along with Salman Khan's film.



Well, you can't push the 'Tiger'. You simply move away from him, right?




http://timesofindia.indiatimes.com/entertainment/bollywood/news-interviews/Sonakshi-Sinha-tries-to-be-Salman-Khan/articleshow/11436745.cms


---
RE: Sonakshi Sinha - ktm gal - 01-24-2012 05:29 PM



'Diplomatic' incident for Sonakshi Sinha



January 24, 2012
DC




Everyone knows that whatever Salman Khan says, protégé Sonakshi Sinha will do.

So quite a few brows were raised when Sona — who is the brand ambassador for Salman's Mumbai Heroes team in the Celebrity Cricket League — failed to show up for a most prestigious game.

The reason: Sona found out that Salman had also roped in Kangna Ranaut to be the co-ambassador for the team. "Sonakshi really didn't want to share the stage with Kangna," a source told us.

Sona cited date issues and backed out, but Kangy reaped the benefits.

While there have been rumours doing the rounds about Kangy's newfound friendship with Salman, the curly-haired actress denied any link, saying, "Salman didn't get me on board. I'm here because Sohail Khan is a very dear friend." Ho-hum…

http://www.deccanchronicle.com/channels/showbiz/bollywood/%E2%80%98diplomatic%E2%80%99-incident-sonakshi-sinha-265


---
RE: Sonakshi Sinha - ktm gal - 02-12-2012 02:42 PM



Sonakshi Sinha absolutely loathes Valentine's Day



Saturday, February 11, 2012, 16:08 [IST]

Actress Sonakshi Sinha has rubbished reports that she is dating her Lootera co-star Ranveer Singh saying that she is not dating anyone. The 24-year-old Bollywood star, who made her Bollywood debut with actor Salman Khan starrer Dabangg, also said that she absolutely loathes Valentine's Day.

Sonakshi Sinha took to her Twitter page to confirm that she is not dating anyone. The actress wrote, "I know it makes a good sensational copy to link co-stars and makes for great gossip, but I just want to confirm that I am not dating or in a romantic relationship with anyone."

Talking about her plans for this Valentine's Day, Sonakshi Sinha further tweeted, "Oh ya - AND sorry to burst your bubble but I absolutely loathe valentines day, so for me to fuss around it, would be most unlikely! (sic)," Sinha wrote on her Twitter page."


http://entertainment.oneindia.in/bollywood/news/2012/sonakshi-sinha-loathes-valentines-day-110212.html


---
RE: Sonakshi Sinha - ktm gal - 02-19-2012 11:40 AM



Shatrughan livid over reports of Sonakshi's link-up with Ranveer



By: Subhash K Jha Date: 2012-02-19 Place: Mumbai

The angry actor calls up daughter and 'Lootera' unit asking for an explanation

As the story goes, Shatrughan Sinha, the strict disciplinarian that he is, granted his daughter Sonakshi Sinha the permission to act in films, but with one condition. She was to never compromise her family's dignity.



Sonakshi Sinha

So when recent media reports emerged linking Sonakshi to her Lootera-co-star Ranveer Singh, and even claiming that the two, who are currently in Kolkata shooting for the film, were going to take a day off on February 14 to celebrate Valentine's Day with each other, a livid Shatrughan called up his daughter and unit members asking for an explanation.

According to sources, Shatrughan even demanded that his daughter be sent home to Mumbai immediately.
It was only after a number of requests that the senior actor was pacified. According to a source, who is a close friend of the Sinhas, everyone is at their wit's end wondering who could be behind the rumour.

"Sonakshi is as friendly with Ranveer as any other co-star. She's wondering who's spreading these rumours of a romance when there's nothing between them."

When contacted, Lootera's producer Vikas Bahl said, "I can tell you this much. Sonakshi and Ranveer were shooting for the film on February 14 in Kolkata. There was no question of them taking the day off." "I can vouch for this, there's nothing between the two," he added.

Clearly miffed by the rumours and the anger it has caused Shatrughan, when asked about who could be behind the rumours, Sonakashi said, "How do I know where these rumours are coming from? Ranveer and I are co-stars. Nothing more."


http://www.mid-day.com/entertainment/2012/feb/190212-Daddy-loses-his-cool.htm


---
RE: Sonakshi Sinha - ktm gal - 02-19-2012 12:42 PM



Ranveer Singh's flirty sms-es for Sonakshi


TNN | Feb 19, 2012, 12.00AM IST

While most do it with flowers and gifts, Ranveer Singh does it with text messages. Sources reveal Ranveer has an archive of flirty text messages on his phone which he sends out to Sonakshi.

Even though she finds it cheesy, Ranveer is persistent and keeps texting her one liners and jokes all day. During their Kolkatta schedule the actor would spam her phone with numerous messages and later ask her if she found them amusing. Sonakshi's reply wasn't that positive but that didn't dampen Singhs spirit and he persisted with his efforts.


http://timesofindia.indiatimes.com/entertainment/bollywood/news-interviews/Ranveer-Singhs-flirty-sms-es-for-Sonakshi/articleshow/11938251.cms


---
RE: Sonakshi Sinha - ktm gal - 03-10-2012 02:10 PM



'Fat' Sonia dumped from Race 2






Sonakshi Sinha

If you thought The Dirty Picture had ended the bias against voluptuous women, then you may be hugely mistaken.

As far as the actresses are concerned, slim is still 'in'. Sonakshi Sinha learnt her lesson the hard way after being dumped from her dream project, Race 2.

The actress, it seems, was too 'fat' to be a part of the film, whose prequel featured hot-bods Bipasha Basu and Katrina Kaif.

What added insult to injury is that it was director duo Abbas-Mustan, who rejected her after seeing her in a glamorous outfit that apparently didn't suit her.

Glamorous or not, Sonakshi has all the reasons to sulk but all she needs to do now is hit the gym.

We hope she retains her enviable curves, though.

Read more: http://www.dailymail.co.uk/indiahome/indianews/article-2112891/Salman-Khan-play-God-Akshay-Kumars-new-film.html#ixzz1oidkePbv


---
RE: Sonakshi Sinha - Mithun - 03-10-2012 02:36 PM

Those idiot tabloids!!!!
She left Race2 for Dabaang 2 becouse of time conflict!!!
---